At Air Alliance Houston, we love Earth Day. That's why we've brought Earth Day Houston to the people of Houston for the last eleven years. But we couldn't put on the event by ourselves. Today we'd like to thank each of our cash sponsors who make Earth Day Houston possible.
HGAC Commute Solutions – Transportation Zone Sponsor
The Houston-Galveston Area Council's Commute Solutions  provides advice, answers, and grant funds for commuting and transit options to both commuters and employers. Options include ridesharing, teleworking, alternative work schedules such as 9/80s, vanpool, transit subsidies, biking, walking, and park and rides, so have human resources call today!
Coca-Cola – Beverage Sponsor
A global leader in the beverage industry, The Coca-Cola Company offers hundreds of brands, including soft drinks, fruit juices, sports drinks and other beverages. Coca-Cola just announced the selection of Helen Smith Price, a 23-year veteran of The Coca-Cola Company, to lead the company's philanthropic arm. Each year The Coca-ColaCompany gives back one percent of its prior year's operating income.
Vital Allergy & Asthma Center – Health Living Zone Sponsor
The Vital Allergy & Asthma Center of Houston is committed to providing compassionate, individualized, high quality medical care to patients of all ages in a warm and friendly environment. By relieving and eliminating the debilitating symptoms of allergic disease and restoring the full range of lifestyle activities, it gives our patients a renewed vitality: "Adding Vitality to Life by Eliminating Allergies." Vital Allergy & Asthma Center's Dr. Brian Tison is also a proud board member of Air Alliance Houston.
The Port of Houston Authority – Water Zone Sponsor
The Port of Houston Authority is the governing body regulating and directing the Port of Houston and the Houston Ship Channel. The Port of Houston is an economic engine that produces jobs and economic prosperity for the local and state economy. Air Alliance Houston has worked closely with the Port of Houston Authority in our efforts to protect the health of portside community residents.
O'Rourke Petroleum – Entry Gate Sponsor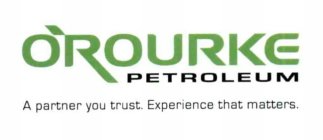 O'Rourke Petroleum  is a leading distributor of lubricants, fuels, and environmental services. With facilities in Houston, Dallas, Midland/Odessa, and Tyler, and satellite locations in San Antonio and Victoria, we provide products and services that enhance equipment functionality and reliability, streamline operating processes, meet regulatory guidelines, minimize waste streams, and maximize your petroleum dollars.